Why So Sad?
Brewier was doing yard work yesterday, part of which was digging up elephant ears. Years ago we had stuck and elephant ear plant in the ground. The thing took over and spread throughout the yard, and let me tell you they are called elephant ears for a reason. They get huge! (And in the process of getting huge they drink up ALL the water meant for the other plants.) As Brewier was making a pile of the offenders, I decided to use some of these little baby ears inside for decoration. I put one in the bathroom and one by my kitchen sink. The one in the bathroom is happy as can be.
But within 30 minutes of being placed in an old wine bottle theis ear started looking like this: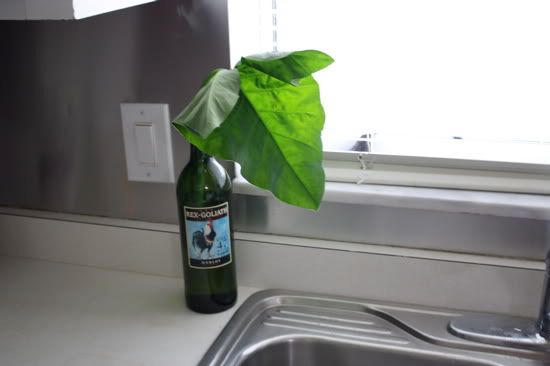 Is it sad or drunk?
I've had the bottle forever; saved because I like the label.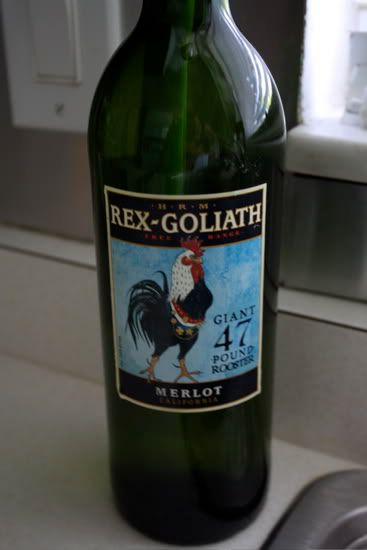 I finally had an eye exam done and ordered a new pair of glasses. I was not impressed with my Costco $55 dollar, 5 minute eye exam, but everyone I'd talked to was happy with their experience so, ok. I chose my frames, ordered my glasses, and last week I went and picked them up; excited about finally being able to read lots of books with out eye pain or strain. WRONG. Text is distorted, my computer screen has Picaso-ish angles, and within 5 minutes of wearing them, my eyes start to burn and water. The whites of my eyes have also turned an unattractive shade of pink from all the inflamed blood vessels. I think I'll just go to Walgreens and pick up a pair of readers like Brewier does. I miss books.