My Fabulous Weekend.
Friday as I was walking to my car at Costco I heard little voices calling out, "Aunt Tricia!"
I was so happy to be able to take Sam and Gator home with me! Of course their first question was, "Is Megan at your house?" They love her, and she was.
*Megan was having morning sickness issues and not feeling well when this was taken*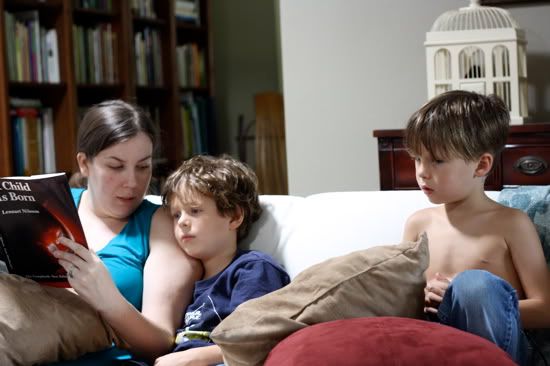 Saturday after a fruitless morning garage sale-ing, we went out to eat. We pasted the wiener mobile and I was tempted to stop. I've always wanted a wiener whistle. "Wiener whistle." Sounds kinda dirty.
I'm so glad we didn't because 4Rivers Smokehouse has some of the best food I've ever eaten. I'm not usually big on BBQ. 4Rivers has changed that. The collards were awesome.
See Brewiers shirt? I was unintentionally dressed in a t-shirt of the same color. Everywhere we went we were greeted with, "You two match! How cute!" For the record, I don't think matching is so cute because it makes me feel like we are a little old couple, which I'm sure is how all these teenage girls saw us. Did I mention I'm about to get my 6th grandchild?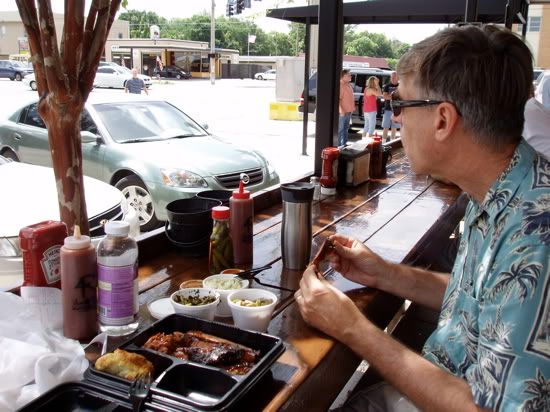 After eating we ran some errands and filled up the car with gas. When we got home it felt so anti climatic, we'd had such a fun filled day, so we put our swimsuits on and headed to the beach. Yipee! (we did after all have a full tank of gas.)
We watched this guy strap on what appeared to be an air boat fan to his back then take off into the air. It looks fun...kinda scary though.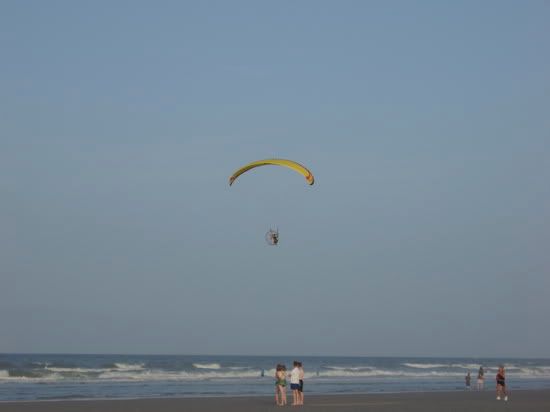 After the sun set the beach got all misty, it started to get dark and we headed home.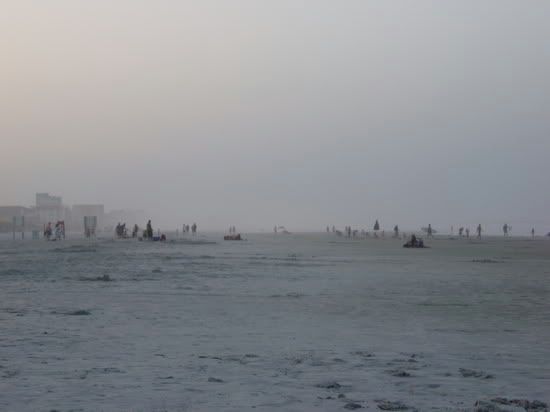 Friday Brewier was asked to audition for a part in the remake of the movie, "Footloose," but because it was in Atlanta he declined. Friday evening his agent called him saying that the client was really interested in him and would he do a video audition for them, so Sunday he went and did that.
While he did that I went to Whole Foods and loaded up on produce. We are once again attempting to eat raw. The most amazing thing to me about eating a raw diet is that I don't get very hungry. You'd think eating just raw fruits and vegetables that you'd starve, but you don't. (And I'm REALLY glad we got to eat at 4Rivers on Saturday before our raw diet started.)
I've also updated my craft blog. I made this pillow from one of Brewiers old dress shirts, and my old t-shirt.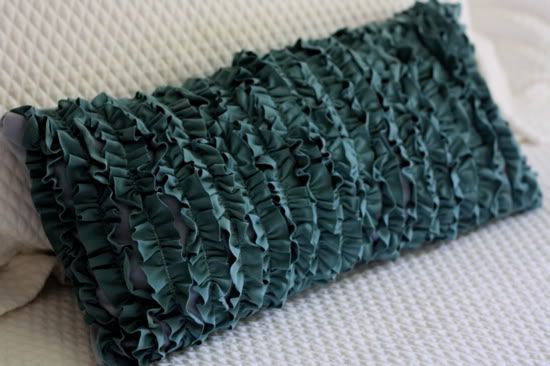 I like it.