It's Not As Easy As It Looks.
I often get complimented on what I wear, and I've learned to accept the compliment and say thank you. But I'm never able to stop there. If you've ever complimented me on something you know what I'm talking about. After I say thank you, I will inform you on how much I paid for what I'm wearing. I just can't help myself because I find the most awesome deals; especially for as little as I shop. I've decided to document what I wear and how much I paid for it on my blog, because I have no shame. I've got to tell you though, it's not easy photographing yourself.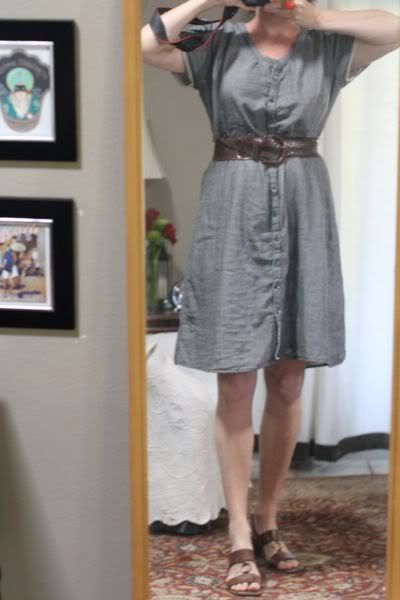 Especially in a dusty mirror.
While trying to keep the giant camera strap out of the picture.
And still show off the cute detail on the sleeve.
Dress - $8.24 at Target. It was a woman size 1, but I brought it home anyway and
shrunk it. Its super soft cotton and I love it.
Belt - $1 garage sale. Wide woven leather, and exactly what I wanted for this dress.
Shoes - $2 garage sale. They fit perfectly and I've worn them a lot these past few months. They seem to go with everything.