Vacation!
Not mine, but Sarah's; which makes it kind of like mine because we get to hang out, watch tv, read style magazines, talk decorating, and eat...lots of that going on. I spent yesterday at her house and while there she had to leave and take Ethan to an emergency dental appointment, (He's fine but had a mysterious toothache.) In my purse was my junky camera with its dying battery, so I walked around and took pictures of Sarah's 1100 sq ft house. I love her home and would happily live in a duplicate of it.
When you walk in the front door this is what you see.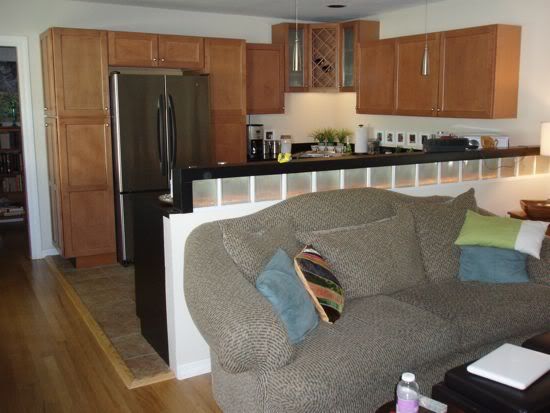 To your right is her living room and dining room. Thats where we'll head.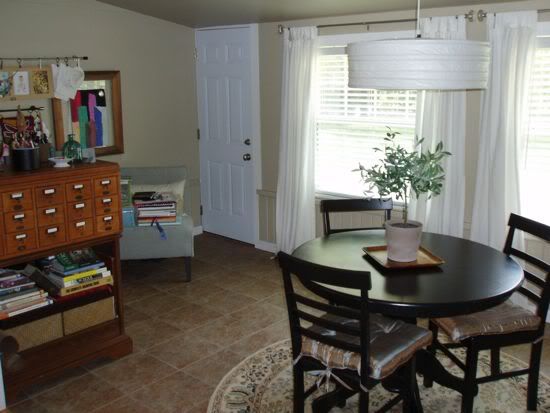 Behind the vintage lust worthy card catalog, Sarah has carved out a space for all her creative endeavors. It is usually much neater that this but she had been cleaning out Johns office and all the overflow got pushed here.
Johns office is opposite Sarah's space through, the door.
Here you can see his office door and to the right of that is the laundry room. Sarah was doing laundry and hangs her dresses along this ledge to drip dry.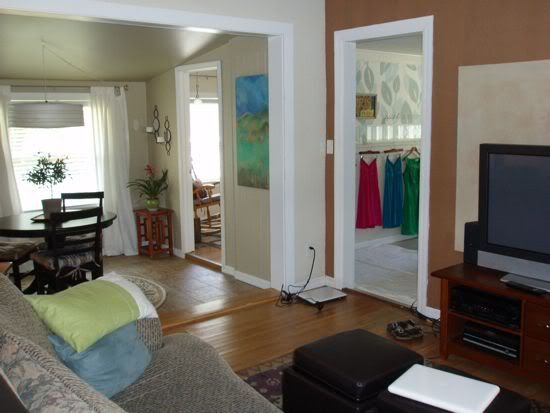 The laundry room is also her dressing room and the dresser acts as a dividing wall betwen the two areas.
Looking back towards the family room you can see her curtained off closet.
We share a love of shoes.
The least used room in the house. Sarah said I could say that.
Walking past the kitchen you enter a hallway. Sarah made the collage and it is gorgeous. One day I'll take a good photo of it to show you.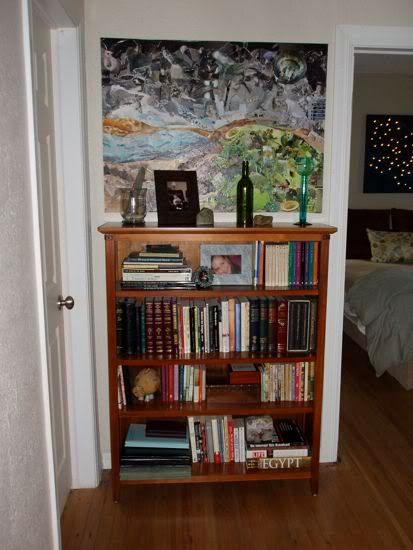 To the left of the bookcase is Ethan's room.
And to the right is John and Sarah's room.
The only bathrroom is off the hallway too. It has an awesome heated toilet seat.
The view leaving the master bedroom.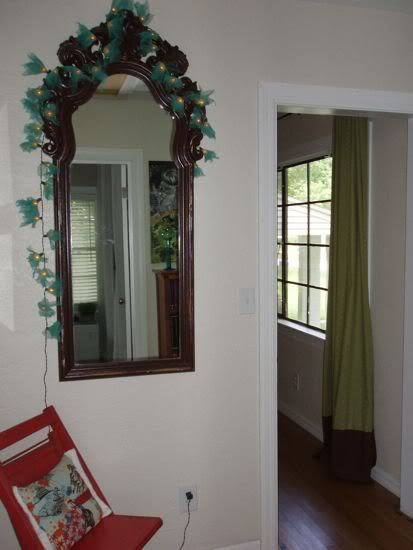 Walking back to the main living area you can see the front door.
And that is the grand tour of Sarah's beautiful, little home.