Because I'm Bad.
I heard Micheal Jackson singing as I typed that.
I came home from *work today looking forward to making a nice healthy dinner and spending some time with Brewier before he went to film tonight. I guess his call time was earlier than I realized because I came home to an empty house. SO instead of making a vegetable laden meal, I ate this.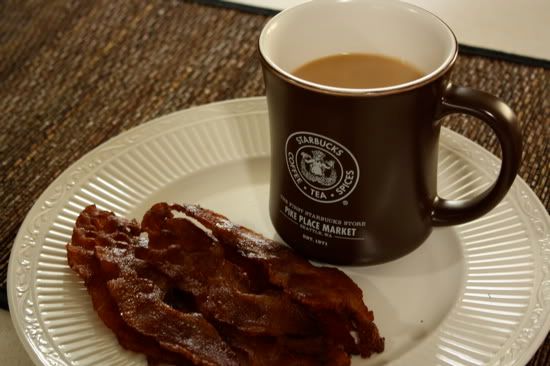 Six pieces of bacon and a cup of coffee. I thought about making a BLT, but why eat unnecessary bread and mayo when all I really want is salty goodness? I ended up eating just 3 1/2 pieces; I can only handle so much. I'll eat tomatoes and cucumbers later.
*Work. My doctors office where I go on Wednesdays, (if I feel up to it,) hang out and do odd jobs. Darlene tells people I'm their, "Girl Friday," a title which I love. I remember watching old black and white movies that would have a Girl Friday character in them and thinking, "What a cool title. I wouldn't mind being a Girl Friday." See, dreams do come true.