Spring Cleaning
Can I start by saying that it was 101 degrees outside yesterday? We were going to go to the beach but it was too hot and muggy. Summer has arrived; as our local weatherman was saying, these are the temperatures we usually don't have until late June.
Despite the heat, I have had spring cleaning fever. The weight room is now free from any traces of laundry and can be used for its designated purpose, (hahaha! Like thats going to happen.) My craft room is now under going some serious cleaning out and reorganization, and I was going to put my bed back in my bedroom, but when Brewier mentioned how our neighbors dog woke him at midnight last night with its barking, I decided to continue sleeping on the floor of the very quiet living room for a bit longer.
Last week before the heat descended upon us, Brewier did a deep cleaning of our garage, (Making us realize we need to have another garage sale,) even mopping the floors. He's my hero. While cleaning he came across a bin containing some of his treasures. Along with the world map, were these building blocks, just like he had when he was a kid,(he found these at a garage sale.)
He built this cute little house with them.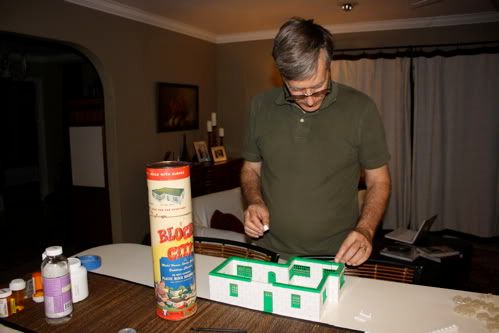 Him playing with these reminded me that I still have my turquoise easy bake oven somewhere in the attic. If we get a cooler day, that will be the next area to be cleaned out.