My Fantastic Weekend.
Because that's what my Facebook status was and Jane asked me if I was going to blog about it. I told her yes, and then realized, what is fantastic for me is probably pretty mundane for most people, but here it is.
The fantastic-ness actually started Wednesday because I felt well enough to go into work for a few hours. Then on Thursday my mom came over in the morning and we hung out all day together, even going out to Marshalls for a little while.
Friday, Vickie stopped by for a short visit and we went through McDonalds drive through and we got coffee. Once again, I was given the senior citizen discount. I'm trying not to let this bother me. Around noon, Eva came over to bake cookies. Just as we were taking them out of the oven, Sarah stopped by for lunch. After she went bake to work, Eva and I sat down to a big stack of magazines and spent several hours cutting out pretty pictures.
What made the weekend great, was that Brewier and I got to spend it together, and for the first time in 4 weeks, I wasn't sick. We've watched a couple of movies together, went to Costco, got take away from Bostons Fish House, and put all the Christmas decorations back up in the attic. For me, this makes up a pretty stellar weekend, and I'm very happy and content.
Vickie and I finally got a chance to exchange our Christmas gifts. We are kindred sparkley spirits.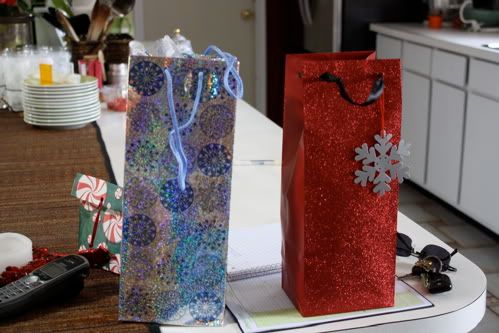 It was so much fun having Eva here. She's such a sweet and funny girl. She shared with me that she wants to grow up to be either a maid or a hip hop dancer :)