Monica from Madison.
But first this exciting news....JESSICA IS PREGNANT!!!! I'm just a wee bit excited.
Yesterday I drove over to Madison IN, to visit with Monica. Our afternoon started out with a visit to Lumber Mill Antiques where she found this awesome feather hat. I tried to talk her into buying it, after all she rocks the look and it matches her jacket. She passed.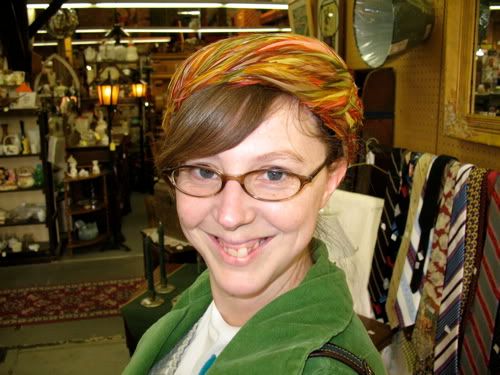 She didn't buy this either, but I could totally see her wearing it at Halloween.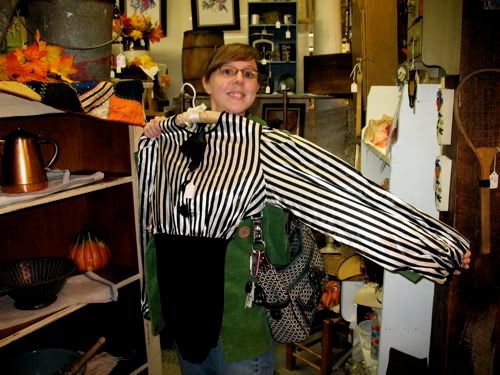 After the antique store we stopped at Madison Coffee and Tea, where Monica got a latte that smelled like I know heaven is going to smell, and I had a cup of tea because I'm trying to be good. We walked around Madison sipping our drinks and gasping over all the beautiful leaves.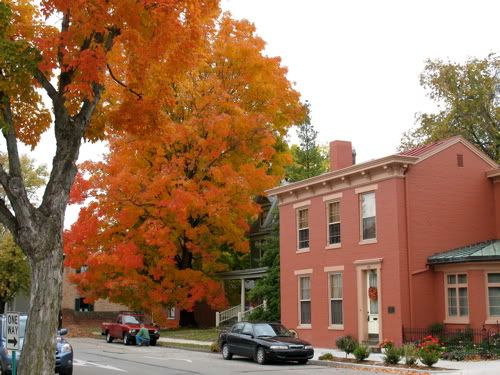 We started picking up the prettiest leaves gathering them into a bouquet in my empty tea cup. People stared at us just like I stare at tourists who go crazy excited over picking up broken pieces of shells at the beach.
As we were strolling the streets, we kept seeing this brilliantly painted home peeking at us from a block away. We had to go investigate. It's really really bright and you can't look at it too long our you will burn your retinas.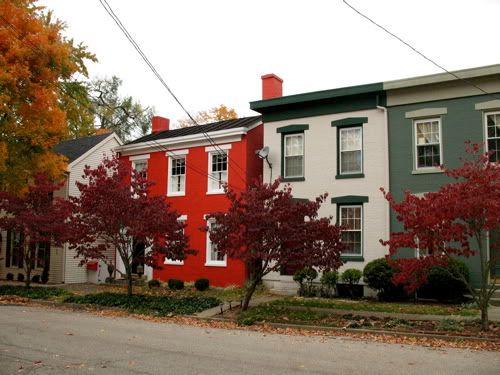 After awhile it started getting too cold to walk so we went back to Monicas house and crashed. I ended up staying until 7:30 because I could breathe in her home! (and because she is very hospitable and entertaining.)
Megan, here is the daily tree update. This was taken on Saturday while Mawmaw was getting the mail.