A Weekend Without My Computer.
I took a computer break this weekend, because I just needed to. Brewier and I tried to garage sale Saturday morning, but not much was going on in that arena, so we came home to do yard work. Mostly it was Brewier doing yard work. He is putting in beds around the perimeter of our back yard and moving the sod to the side yard. We are a corner lot, and its a lot like having two front yards. The people who we bought the house from, and who now live across the street from us, were not, "home'" people. The inside was a dirty disaster,( I cried for the first 6 months we lived here,) and the outside barren. Barren as in the whole side yard was just a vast expanse of sand and mulch. I wish I had "before" pictures, but I never remember to take them.
Saturday evening was beautiful and we had Matthew and Megan over for dinner.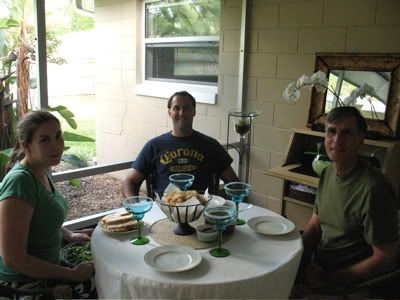 Last night; another beautiful night, was the neighborhood dinner at Greg and Melissa's. Here are Gator and Sage, hanging out in the kayaks. Gator has named his, "Crocodile Dundee."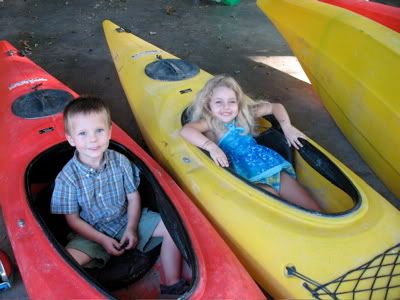 I'm trying to spend as much time outside as possible right now because I know summer will be here any day and I'm dreading it. 6-7 months of extreme heat and humidity, too intense to go outside. Yuck.
Friday morning....
early
morning, Sam and Greg asked if they could get in my bed and in my, "nest." I looked bewilderingly at Greg and said, "Sure." With joy, he ran off to my bedroom. A few minutes later I went back to check on them and this is what I found: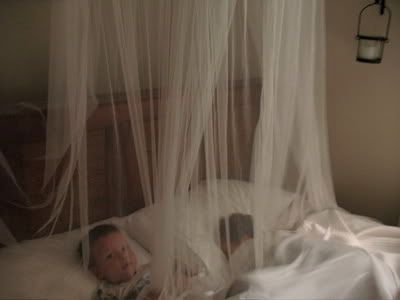 Two happy and quiet little boys buried in my duvet and surrounded by my, "nest."