It's All Because of Me.
Because you know I am such a trendsetter. Okay, maybe its not just because of me that thrifting is now the new big thing to do. I have thrifted and shopped garage sales all my life, (as well as crafting and refashioning, which are also hot right now.) Brewier and I were at Goodwill yesterday and I couldn't believe how much they have raised prices! $30 for used vinyl, made in china purses. $14 for scuffed worn out shoes, and very worn shirts starting at $5. What? Are they kidding? I guess not since people were in the store buying stuff. We went to two other, "chain," thrift stores and it was the same story. I left very disappointed. We had a much better time at a church rummage sale where things were more appropriately priced. One of my finds was this creamer and pitcher set made by Blue Mountain Pottery for 50 cents. I picked up a couple of sweaters to felt for $1 each, and a bag of thread and seam binding for $1. Nothing overly exciting. The vase I picked up at a little church thrift store for 50 cents.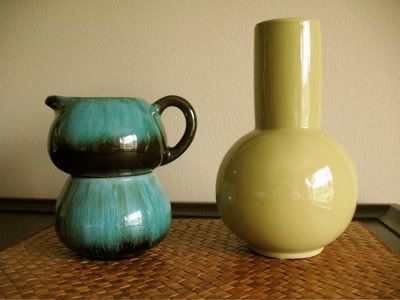 The rest of my day has ben spent resting, (doctors orders.) All this pollen has me feeling ill and struggling to breathe. Yep, I should move.
I did get to chat with my brother Ken and Megan. Kenny cracks me up. He is the fire marshall in a smallish town in Ky and goes to schools to do safety and fire awareness instruction. This often involves handing out literature and other freebies. His newest freebie is a hurricane tracking and survival kit, complete with a heavy duty, large, rain slicker. He ordered 30. He lives in Ky. They don't have hurricanes. When I pointed this out to him he said, "Yeah, but they were free. And look at the cool rain slicker." Which he then modeled for us.