Isn't It Romantic?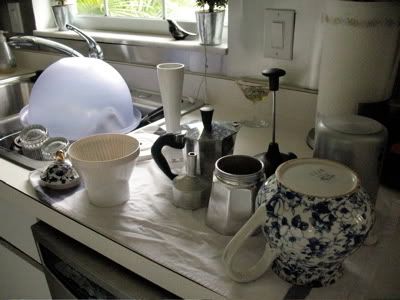 Romantic -adjective,
displaying or expressing love or strong affection.
I came home from, (a whole two hours of,) work this afternoon and Brewier was just finishing doing the dishes. Yes, to me this is very romantic.
Yesterday Sam was over for a visit. I made him a cup of hot chocolate and was grinding beans to make myself espresso. After measuring out my coffee Sam asked if he could have what was left of the ground coffee. I handed him the grinder lid and he happily licked up all the grounds, then asked me if I would please put some espresso in his cocoa. You know
he has been a coffee lover since he was very little.