An Email From Allison
"I had Micah on my lap as I browsed etsy. As soon as he saw this
picture he asked, "Is dat Tricia?" I thought it was too funny. Was
it the funky necklace or was it something else???"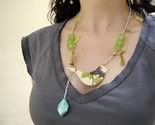 Micah is such a cutie. When I saw the picture I thought it was Allison with a really cool necklace on. When I read the post and found out Micah thought it was me, all I could excitedly think is, "He thinks I'm that slim!"
Then I thought, "Maybe its because the girl in the picture looks like she is armless." While I do have arms, I've been known to pull one inside my shirt and hide it behind my back and tell small children that I've lost an arm and have they seen it lying around anywhere.
This morning Megan and I are going to the florist to order flowers for the wedding. Last minute you say? Yes, it is. Thankfully the florist is a friend of Matthews family and is even going to give us a deal. I love a good deal.