Crafting Makes Things Better.
Since I have no children of my own at home anymore, I've taken to borrowing them from friends. Eva and Olivia were over for a visit today and we were able to craft a little.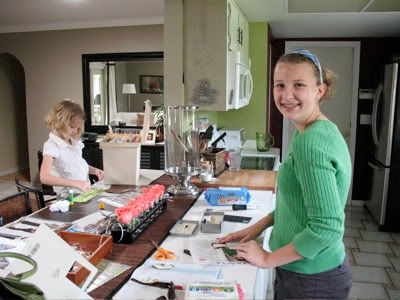 Olivia discovered an alternative to needles and nasty collagen injections. Simply cut some lips out of a fashion magazine and adhere them to your own with some double stick tape. You'll be looking like a Hollywood actress in no time.
Not all our time together was spent crafting. We shanghaied the kiddos and had them help us move boxes into Megans and Matthews new house. The only thing keeping me from taking over the bedroom is Megs dresser and bed. Tomorrow.