Random Fact Wednesday.
I haven't done random fact Wednesday for a while...I think it was on Wednesdays when I did it, its hard to remember because I'm pretty random every day. Which brings me to the fact. I'm a very spur of the moment, spontaneous person, who doesn't plan a whole lot, or set goals.I don't do well at planning to entertain people, I get nervous and grouchy, (unless its someone I have over regularly,) I'm much better at people just showing up and throwing together whatever I have. I remember interviewing for jobs and being asked the question, "Where do you see yourself in 5 years?"All I could think was, "Are you kidding me? I don't even know what i"m having for dinner." I wish I would have thought to say something like, "Oh, I'm positive I will be am expatriate living in Tuscany, tending to my olive trees and grape vines when I'm not tooling around the countryside in my Lamborghini...unless that whole winning the lottery thing doesn't pan out ...then , who knows, maybe I'll be homeless, living under the Golden Gate Bridge." Yeah, I wish I would have said that instead of, "I don't know."
This week while Meg and I were thrifting, I happened upon a pair of practically new mans pajamas, in the most wonderful cotton summer fabric: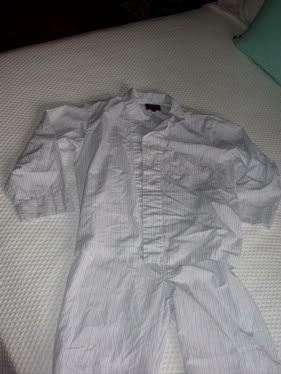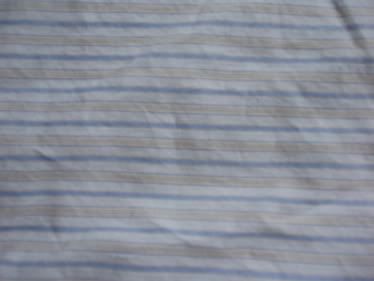 They were half price too, only $3. I had visions of wearing them and looking like Meg Ryan in, "You've Got Mail." (the movie I'd like to live in." I came home and immediatly washed them, excited about wearing them and looking all perky and cute...fact number two: I do not wear a mans size large. I did not look cute. There are no words to describe how I looked. I'm very happy I don't wear a mans large, I really thought they would fit, but I'm sad about my shattered dream. I think I might have to watch "You've Got Mail," tonight.