Oh My Goodness What a Beautiful Day!
As soon as I woke up i knew there was a change in weather because my head didn't feel like it was filled with Jello. A cool, dry front moved through last night leaving us with very un-June like weather. Breweir was getting ready to lift weights but agreed to go on a bike ride with me instead. We rode to Panera Bread, had breakfast then rode home. I really did have every intention of going to church...but it was sooooo nice out I asked if we could go to the beach instead and because Brewier understands the importance the beach plays in my mental health, thats what we did. By lunchtime it was starting to get too hot so after eating our Publix subs we headed home. (Despite having on 2 layers of 60 spf sunscreen I am sunburned!!) We rested for a while then headed over to Gregs for his weekly neighborhood dinner. I love the fact that when we drive up to their house both Sammy and Gregory run up to my car shouting, "Tricia!" It makes me all warm inside.
Gregs neighbor Dave was sitting on the back of his truck squirting the kids with a hose,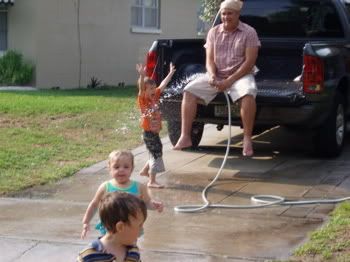 Sammy decided he didn't like getting the water in his eyes. Thats a bandana he is wearing around his waist. He is one stylish dude.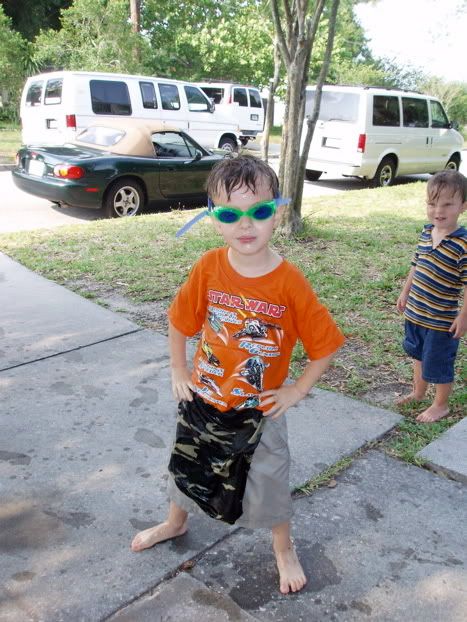 Gregory got tired of the water and thought cold clothes were a bother, so decided to ride his bike instead.
Naked.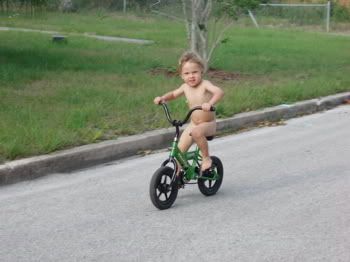 Its hard to believe hes only two. He hops on the bike and goes! Through the grass over curbs...everywhere!
After riding his bike for a while he disapeared. I went in the house and found him sitting on the kitchen floor with a bottle of chocolate syrup and a can of whipped cream. He is
so
Gregs son.
I should be getting ready for bed, but Publix had their ice tea on sale, buy one gallon get one free. I drank an entire gallon. Its really good tea.