No Internet?
What will we do?? I'm sitting up against my kitchen window, "borrowing," signal from some neighbor. I have only one tiny little bar of signal and I don't know how long it will last. How life or death does that sound? We are so pathetic.
This morning I got a coffee and drove over to Gregs to see Sam and Gregory. They were all going a litle stir crazy so we loaded them into the van and headed for Park Ave. As soon as they were out of the van, the boys were climbing up store signs....and Gregory pulled down his pants to pee on the sidewalk.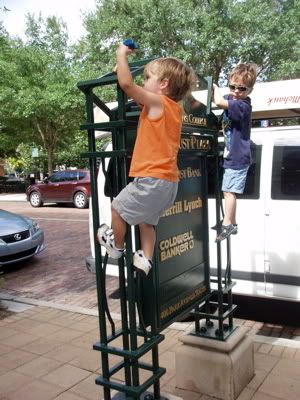 The only thing that got them down was spotting a Starbucks. We had a hard time getting Gregory to leave it. It must be a family thing, right Jessica?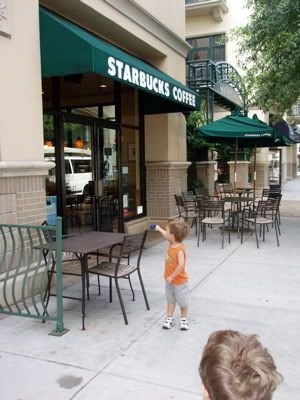 After walking we went and saw Megan at work and Mom an Dick were there too! After visiting the boys were hungry so we went and got BBQ, then on to Toy r Us...where Gregory pulled down his pants to pee in the parking lot. Why no pictures of all these other activities you ask? Its because my nephews never stop moving, running climbing or talking. By 2pm I was worn out and headed home.
I think Brewier and I are going to head to Lowes. We need to get grout for the bathroom.