Library Love.
Just incase I haven't made myself clear before, I love libraries. Even as small a town as Carrollton Ky is, they have a pretty good library and free WiFi. Brewier and I have gotten into a routine while here. We get up in the morning have breakfast then drive 8 miles into town where I get my coffee at McDonalds. I'm now addicted to their coffee, its really good, and because of Brewiers advanced age, (snicker snicker,) I can get the senior citizen dscount so it only costs 64 cents. After I have my coffeee in hand, we head over to the library and get online, thus insuring my sanity for another day.
Yesterday we drove to Madison In again to visit a couple more antique shops, and yes I bought a few more treasures. Buttons to be exact. My supply at home is running low and I'm making Meg a button flower bouquet for her wedding, so I spent $20 on 2 small jars of buttons. Yikes! Anybody out there have any buttons laying around they don't need?
This is a pic of Main Street in Madison.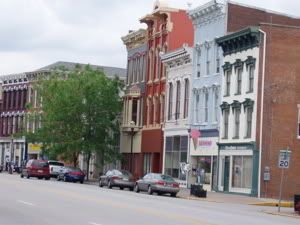 Treasure hunting in an antique store: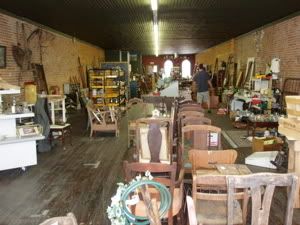 Brett playing with dolls :) He was having them fight each other.