I Shouldn't Get This Excited About a Grocery Store.
But I just went to Trader Joe's. The elusive west coast store that I read about, that friends and family have gone to but I could only dream of....its all part of that living on the west coast dream I have. I knew there was one here in Cincinnati, and while the primary reason for coming into the city was the art museum, there was no way I was leaving with out a bottle or two of "two buck Chuck." I practically skipped down the aisles, telling Brewier over and over again, "I'm so happy to be here! Thank You!" I bought $70 worht of groceries and half of it was chocolate or chocolate covered things. I hope they don't melt before I get back to Orlando. It would be a real shame if I had to eat it all before being able to share it with anyone:)
Brewier and I just had a delicious lunch of non-fried food at Panera Bread and are taking advantage of their free WiFi. Love it!
See how happy I am despite the desperate need for lip stick and a brush for my hair?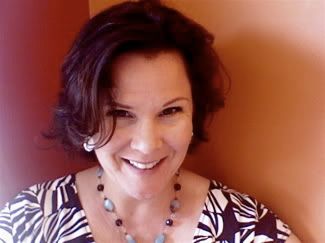 BTW, Renee, I love my haircut! Burn it into you brain because I know I'll want it again! Thank you!