An Emotion Packed Weekend.
I'm not good at writing about emotions, besides, this is light fluffy blog....not that all the emotions have been sad, but, Megan has been crying and sobbing since Wednesday, when Matthews brother died. Thats hard for me as her mother to watch, not to mention the sorrow I feel for Matthew and his family.
It was wonderful to spend time with Sarah, we had a great time together, but rather than our normal discussions of fashion and decorating, we talked of Ellie, and all that they've been feeling and going through. Heavy stuff. Sarah is amazing, and her walk and faith in the Lord, so encouraging.
Today after church Darlene had most of the Skees clan, as well as a few others, (about 18 of us in all,) over for lunch and to visit with John and Sarah, Ethan and Ellie. Ellie was a bit overwhelmed by it all, but later in the afternoon invited all us girls into Darlenes bedroom, where she put on a fashion show, of the new clothes Ginger and Pat bought for her. Here are a few of my favorites: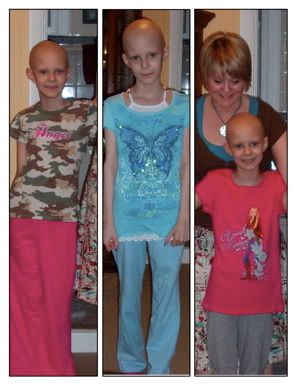 After the last outfit was modeled and everyone was heading out of the bedroom, she curled up next to me in Darlenes bed where I was laying. She was very still until the last person left the room, then she hopped out of bed, shut the door and bounded back into bed and snuggled up next to me. She told me about going to FAO Shwartz, and her favorite palce of all, the American Girl store. She said she has a napkin and a sugar packet from the cafe there, for me :) We talked about having a sleep over at my house the next time she comes home, and she wanted to make sure I'd have confetti poppers, like I usually do. She also showed me the video game she plays on line and gave me her user name and password in case I ever want to play it. She is such a precious and sweet little girl, and driving home I had a hard time seeing as I cried most of the way there.
So anyway, a couple more photos from the weekend.
Saturday morning breakfast.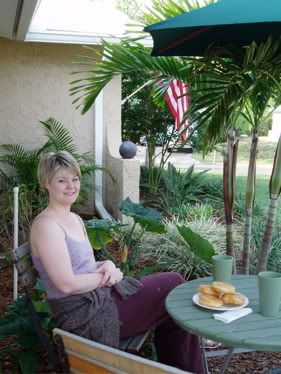 Sarah and Ellie.
Ellie wearing my favorite outfit.