Friday in Pictures
It has been a GORGEOUS day! 80 degrees, low humidity, cool breeze...love it.
So, I planted flowers:
Ate lunch outside with Brewier:
Recieved this, "save the date," card from Katie. The heart was solid silver and you had to scratch it of to see the date. How cool is that?! It was also a thrill to get an actual piece of mail.
Had coffee in the afternoon with David and Renee. The timing was perfect because I had just baked chocolate chip cookies.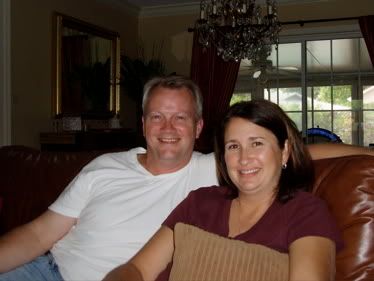 Have I told you that Brewier has another girl vying for his affection> She will change clothes to match what he is wearing, snuggle up to him when he is sitting on the sofa, and today she gave him money!
Its that adorable litttle munchkin in the background, head in her hands, gazing at my husband.
Its dusk now and Brewier and I are going to take a spin in the Miata and listen to tunes...topless of course. The car, not me.