Bits of Randomness.
Look at my handsome european husband! (He looks kind of old though....)
This was a shot from the commercial he filmed yesterday. He had to ride a bike down a narrow bumpy path, while a couple walked by him. He crashed the bike once, but was ok other than a bruise or two. Because he was a good sport about the fall the director is paying him for two days work rather than just one. Not too shabby.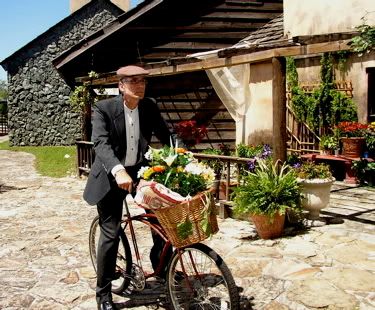 I've had a couple calls from Sarah, the first on Saturday. She and John were out with Nick and Heather, who were in the city for the weekend. She and Heather were exiting one of those little rooms down the dark ally ways of Canal St. where they were shopping for designer knock off handbags, and while they didn't find anything to suit their tastes, they found one that had my name written all over it and she bought it for me! I'm very excited to see it.
Sarah called again this morning to tell me they were trying to get flights worked out to come home next week, and could she come to my house for an, "intensive." Thats the official psychiatric term for vegging out, where we ride around in my car, then watch chick flicks, look at InStyle magazine, eat fancy appitizers and drink wine.
I hope the plans all work out.