"Are You Taking Pictures of Our Food Again?"
asks Brewier as we sit down to eat. I guess I do that alot, though most of the pictures end up being deleted.
This morning we woke up showered and got dressed, all by 8am. We took advantage of the cool morning and rode our bikes. Brewier has to ride a bike in the commercial he's filming tomorrow so why not practice by riding to Panera Bread to have breakfast? We ate this: Yummy.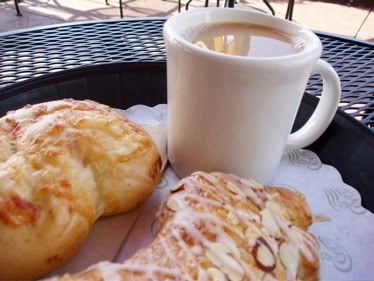 We biked home and arrived in time to change clothes and go to church, I'm so impressed with us. I didn't eat anything there, so no pictue. I didn't photograph our lunch either. We had great big salads that probably met our 9 servings of veggies a day quota, which is good since it would be the only healthy thing eaten today.
The afternoon was spent visiting the Parade of Homes. The BIG homes....the kind celebrities live in that are hard to imagine until you actually walk through one, and even then you are left, head spinning and uanable to process all that you're seeing, They're alot of fun to look at, and to think about living in, but I don't think that lifestyle is for me. Brewier says he thinks I could get used to it pretty easily. I don't know...I guess I'd be willing to try it out for awhile:)
We came home pretty hungry and Brewier suggested fried shrimp. Who am I to argue with that? Looks good, doesn't it? It was. Thats a whole pound of onion rings! (They messed up our order and gave us a large instead of a small.)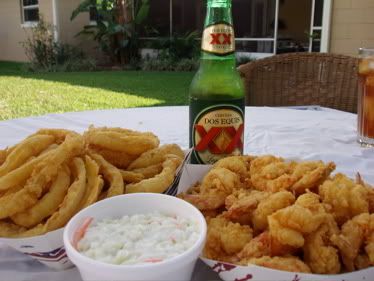 Last night we stopped by to say hi to Mom and Dick and ended up staying until 11pm, playing, "Polish Poker," with them and their friends. I'm hoping to play again before their friends head back to GA. (thats a hint Mom)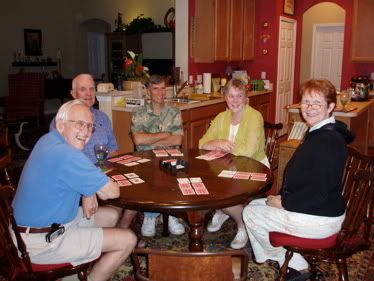 I'm watching "Planet Earth," right now, and its very good and beautifully filmed, but I have trouble watching animal things. Like right now they are showing a snow leopard cub trying to take down some kind of goat/deer animal, and the cub is chasing the deer thing and finally chomps down on it rear end and the deer is screaming, and I'm all tense thinking, " Let go of that deer! You're hurting it!" Then the dear does get away, and the narrator, Sigourney Weaver saddly says, "The cub will not get to eat today," and I'm all shaky and ready to cry because now we have an injured deer and a hungry cub. I know its all part of, "The circle of life," but I just don't need this kind of emotional stress!