Megan...the makeup debate.
Makeup or not, I think she looks amazing for just rolling out of bed. Here is the close up of her face. She doesn't wear lipstick, her lips are really that red....and she hadn't brushed her hair yet.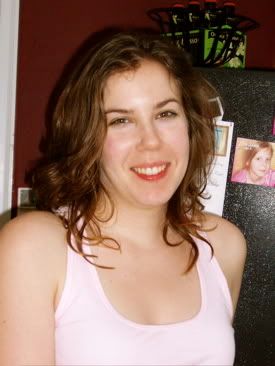 I watched Emmie and Micah today, they are so sweet. They had a great time playing in the fountain out front.
Megan and I had a fun time trying to figure out what Micah was saying. He talks very well for his age, but he kept saying this one phrase over and over that we didn't quite understand. It was either, "Happy New Year," or, " I need a boutonniere." I asked Emmie what he was saying; she looked at me disbeileveingly and said, "I don't know!"
When Allison arrived to pick them up she was able to clear up the mystery. He was asking for a pear. Ohhhhh.