Its Kinda Like My House.
Only supersized, as are so many of the homes they build around here. This is a photo of a house Rebecca and I walk by. Sam saw the picture and thought it was my house...I'm flattered, but quite honestly I wouldn't want a house that big. I do have a fountain and my house is painted the same color, no second sory though, but our home is the perfect size for us and I really like it and our location.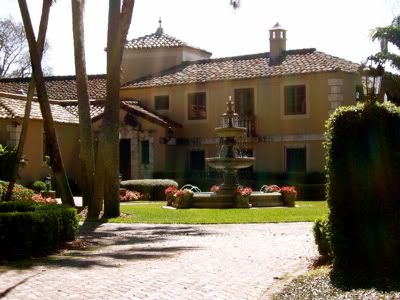 Today is soooo windy, and because it hasn't rained in a while the pollen is making the sky brown like a big dust storm....no flying kites today, the string would probably snap! Brewier and I hope to go over to Tampa tomorrow and visit Jessica. She's been really sick this week and has no one to help her out or fix her food, its so hard being sick and having to take care of a little baby.