I Almost Forgot to Post!
Not because I've been overly busy, I just haven't been on the computer today. What have I done?
(1) Walked with Rebecca to Whole Foods. Came home and drank coffee while researching lip balm ingredients.
(2) Did some laundry.
(3) Cleaned the bathroom. Ahhh, clean sheets
(4) Went to Leedys to sell some books. Out of 20 books, only sold three.
(5) Went to Bed Bath and Beyond. Too smelly to shop.
(6) Went to the library. Got some movies, books and books on cd.
(7) Went to Home Depot. Would rather shop at Lowes.
(8) Went to Costco and bought some fresh warm bread and Irish cheese.
(9) Came home and had dinner outside. Our neighbors all get a kick out of us eating outside so much. I know this because they all say something about it. Mostly I hear that we look so French/European.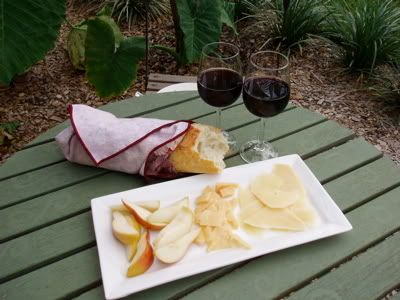 (10) Made and ate cookies.
(11) Watched two episodes of CSI with Brewier.
(12) Remembered I needed to blog!