About Yesterday.
Last week while out walking, Rebecca amd I came across a pile of about 80 bricks, put out for trash pick up. I knew we could use them somewhere so when I got home Brewier and I drove back to the pile and loaded them into the car....then came home and unloaded them and boy did my arms hurt the next day! Anyway, not many garage sales yesterday so we came home to work on house projects. Brewier worked on lining our front, "porch," in the bricks. He ended up having to move a sprinkler head and line, but look how great the finished project looks!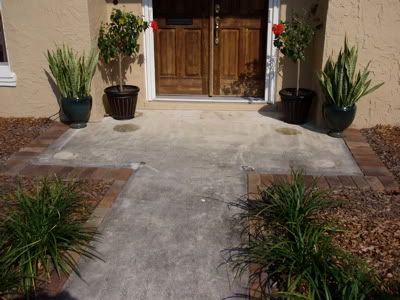 While Brewier was working on the bricks, I moved everything off the lanai and into the backyard. I scrubed the lanai and all the screens as well as washing pollen off of all the outdoor furniture. I kind of like having the the lanai furinture in the backyard.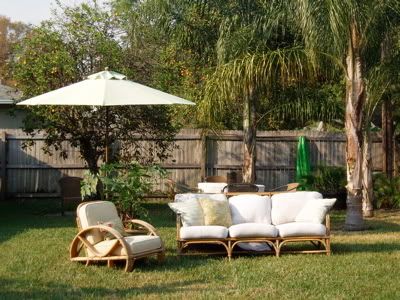 In the evening David, Renee, Olivia and Eva stopped by and we had an impromptu coffee, poptart, popcorn party. Brewier and David decided to take down the broken microwave and discovered that when it was installed they drove the screws into the microwave to hold it up. Yeah, thats real safe. While the guys did that Renee gave me a haircut, (thank you soooo much, I LOVE IT!) fixing the botch job I did on myself earlier in the week. It ended up being a really fun evening, I love when they stop by!
Brewier and DAvid showing off their work.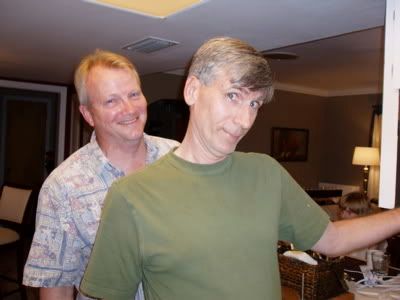 Don't you love the vintage wallpaper and groovy tile hiding behind the microwave.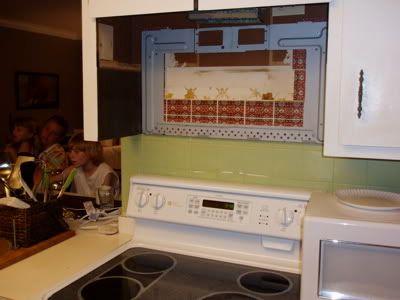 Finally, I woke up this morning to a phone call from Sarah. She, John and
Ellie
were standing outside the Today show, so I turned on the television and was able to see John!