I HAVE MADE LOTION!!!
Remember Tom Hanks in Castaway when he made fire? Thats how I felt this afternoon when Rebecca and I made our own nonscented, all natural body lotion. We were able to get all the ingredients at Chamberlains, along with Megans 20% discount. Sweeeeeet. As soon as we can find tubes to package it in, we are making lip balm.
I hadn't planned on spending the day at Rebeccas, but I did something this morning that caused a tiny little panic attack and didn't want to be alone. What caused this panic attack you ask? Well Megan told me that taking cayanne pepper mixed in honey, would clear my sinuses, give me energy, is good for my heart
and would allow me to walk on water.
I tried it yesterday when I met Meg for lunch, and I was fine. "Cool," I thought. I'll do this again tomorrow and maybe this cold will go awy faster! So this morning, on an empty stomach, (first mistake,) I mixed 1/4 teaspoon of very fresh cayanne pepper, (second mistake, use less when fresh,) with some honey and swallowed it down. Thirty seconds later I knew I was in trouble. My stamach was ON FIRE ! Now, I eat alot of hot food, but this was something else. Normally I would eat some dairy to cool it down, but we haven't any in the house, thus the panicked rush to Rebeccas house and a container of yogurt. It helped some, but let me tell you, I know exactly how my intestines are wound up inside of me because I could feel the cayanne pepper going through. Tomorrow I'll wait till
after
breakfast to take the pepper. Yes I'm doing it again, it really did help my cold.
Rebecca mixing the ingredients: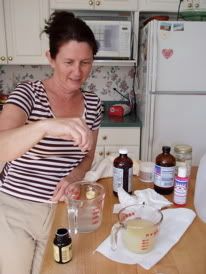 Whirrrrrrrr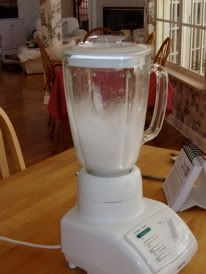 Lotion!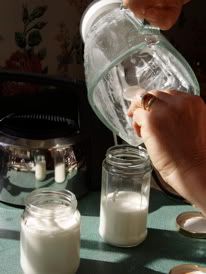 This stuff is too good to go to waste. We used everything left in the blender on our arms, legs and feet.
My skin is so soft its not even funny.