Garage Sale Goodness.
I saw this turquise leather vase last year at Crate and Barrel and loved it. Spending the money on it was not an option, so imagine my excitement when I found it at a garage sale this Saturday. Oh, and I got it for free. Brewier found a Samsonite suitcase at the same sale for $15, and asked if they would take 15 for both items and they did! I love how the vase looks with my button flowers.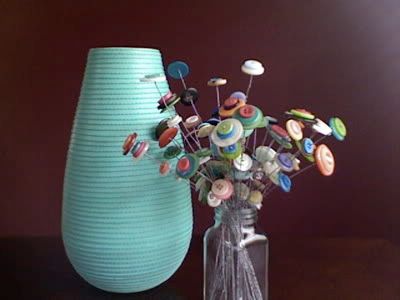 Rebecca and I were supposed to go to Tampa and visit Jessica today, but I don't feel so good. If it ever rains and washes all this oak pollen away I think I would feel tons better. As Renee commented last night, my eyes are so puffy and the circles under them so dark, it looks as if I have two black eyes. I should consider buying stock in Kleenex. Ahhh chooo!