Tickled Pink.
A couple of weeks ago I was in Starbucks and saw a mug
with a saucer
that I fell in love with. Now, I have
alot
of mugs, so I don't really need any new ones, but I couldn't stop thinking of how nice it would be to have my own special mug with its pretty pink saucer to drink tea out of in the mornings. I would be staring off into space and Brewier would ask me what I was thinking about. "Oh this pretty mug at Starbucks," and I would describe it to him in detail. This scenario happened more than once. I was obsessed with this mug. Today we were having our Sunday afternoon drive when I asked Brewier if we could stop at Starbucks and buy the mug. He said yes, but he had already planned on buying it for me as a surprise..isn't he sweet? So now I am anxiously awaiting morning so I can have my tea in the first mug I have ever bought.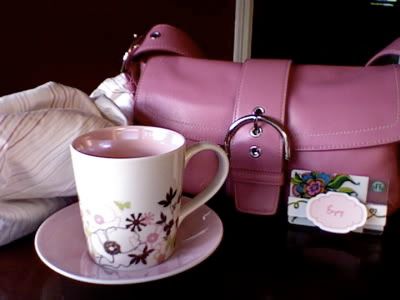 Here is my mug sitting with the pink handbag Brewier gave me for Christmas, my pink striped sheets and a Starbucks gift card that I had to get because it has the coolest design on it and matches my bag :)