I Used to Get Starbucks Cards.
This is what I was gifted with this birthday: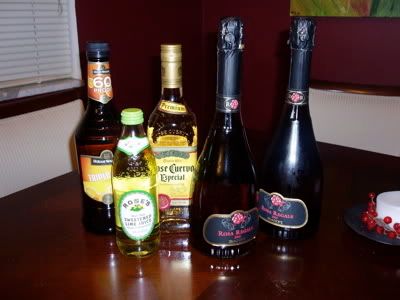 The wine is my favorite dessert wine and both my Mom and David and Renee gave me a bottle! Its so good with dark chocolate.
The tequila, triple sec, and lime juice are from Megans friend from work, Matthew, who is trying to get in my good graces.
I never used to drink other than an occasional glass of wine, but then David and Renee introduced us to margaritas. Real margaritas, not fom a mix. Oh so good with chips and salsa. So now most of my friends know that Friday nights are Mexican food and margarita night here.
I think the shift in beverages came beacuse coffee is on the list of foods I'm supposed to avoid like the plague. I still recieved a few Starbucks cards, it wouldn't be my birthday/Christmas without them, and my friends know i like to get wild and sneak out for a cup of coffee every now and then.