The Day After.
After a week of nonstop shopping, enterrtaining and parties, I spent yesterday huddled in the corner of the sofa watching and making fun of, Lifetime movies for
the entire day.
I was wiped out.
Saturday morning was spent at Mom and Dicks having our family Christmas and celebrating my birthday. Unfortunately Greg was still in the everglades and Megan was working so we met up at Moms again on Sunday after church to have a family picture taken. We then went to Vickies for a lunch of delicious chili and then to Mark and Darlenes for our traditional soup dinner followed by Christmas presents and a truck ride to look at Christmas lights. Every year Mark drives around Orlando with the kids in the back of the pick up, ( I'm one of the kids.) As the years have gone by the kids have gotten bigger so this year it was Megan and I in the bed of the truck along with 5 other "kids" who were all over 6 feet tall. Marks poor truck :) I think Jessica has pictures of us. Speaking of Jessica, she has
written more
about her lunatic neighbor. This lady is crazy. She is mad because Jessica keeps her kitchen blinds open. So mad that a few months ago she put up a fence panel...though the panel is lattice atthe top, so it doesn't afford much privacy. Well after being here in Orlando for 3 days they go home and the lady, has written this on the fence: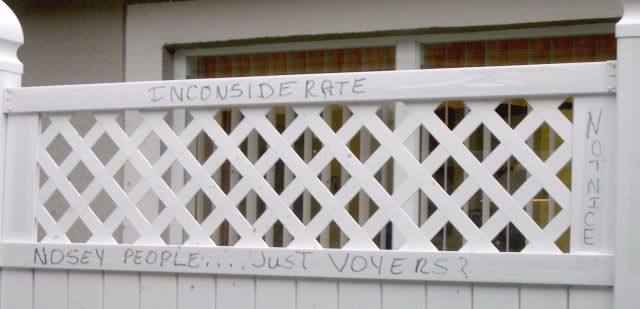 And this woman is a school counselor?!