Saturday.
Saturday was the kind of day I really enjoy; activity and people filled. I spent the morning and early afternoon working on Ellies room. We were expecting her to come home, but her white cell count was at zero so she is staying in the hospital until its a bit higher. The room is looking so pretty! The bed I had ordered came in, but it was wood tone and not white. I looked around all day Thursday unable to find anything in our price range, but Sarahs mom saved the day by finding an even better bed at only $250! I took pictures of the room, but I'm not thrilled with them...maybe I'll post one tomorrow.
The afternoon was spent at our neighborhood picnic, eating really good food and visiting with friends. I bought 20 raffle tickets for $10 and won a $25 gift card to Whole Foods. Bill, an artist neighbor, (and quite a character,) was not only dressed as a pirate but was in full pirate mode..his walk ,talk, everything. He really could be an actor.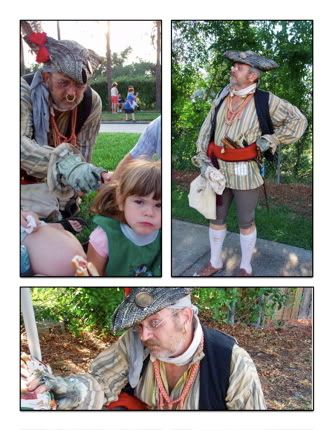 I left the picnic at 6:30 to pick up Meg from work and then head straight over to the lake for Gregs
Full Moon Paddle.
Because a whole lot of people signed up and it looked like it might storm, Meg and I stayd behind with Melissa and the food. The group had only been out about 20 minutes when the heavens opened up.....it had been lightning and thundering all along only now we were in the middle of it. Did you know central Fl is the lightning capital of the world? We started carrying all the food, tables and supplies to Melissas car and then sat inside of it until the boaters started to arrive. We then got out to help people out of the kayaks and canoes and find misplace keys. We ended up drenched and all but a few grumpies had a fun time.
UPDATE
Sears has just delivered refrigerator number four. I hope this is the last one.