OK Already.
So I'm posting, happy now? Its been a strange week and I just don't know what to say.
We went and saw Ellie yesterday and the news is not good. Along with the tumor in her head, she has places throughout her body where it has spread. She is undergoing many test and procedures and I believe she starts chemo this week. She turns eight on Friday. Here is a picture of Ellie, please kepp her and the family in your prayers.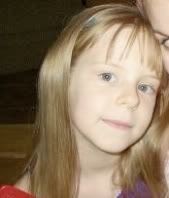 I watched Sam and Gregory on Monday and we had a fun day with most of it spent naked, (them, not me) running around in the backyard, splashing in the kiddie pool, and squirting each other with the hose. I love these boys.
Once inside and dressed, (their clothes had been in the washing machine,) Gregory headed to my closet to try on every pair high heeled shoes I own. He would walk out of the closet and start dancing in them, kick the shoes off and run back into the closet for another pair. He then brought out shoes for Sam, my mom and I to wear, and we all marched through the house. I have video though it doesn't quite capture the hilarity of it all.
Sears brought me a new refrigerator yesterday morning which we promptly rejected. Instead of being stainless with black sides, it was stainless with grey sides. It truely looked like a battleship. The funny thing is, the delivery man pointed out I probably should send it back since it didn't match the rest of my appliances. On to refrigerator number four.