So Far This Week...
I just got back from walking with Rebecca and she reminded me that today is Heathers birthday, so, HAPPY BiRTHDAY HEATHER!
I met Rebecca downtown yesterday, where we braved the vicious squirrels and ate breakfast in Central Park. We picked up our food at the Cuban Cafe, where $4.50 gets you 2 eggs, 3 pieces of bacon, 2 loaves of cuban bread, french fries and the most delicious cafe con leche, Any place that serves fries for breakfast is OK by me.
After breakfast I went and picked up Sammy and took him to Sarahs house to play with Ethan, while Sarah and I visited. The two became fast friends, alowing Sarah and I a chance to visit, ie, laying around on her bed with fashion magazines, coffee and snacks. We ended up staying there 8 hours, with Sam passing out in his car seat as soon as we started home. He was so tired he stayed asleep while I took him out of his car seat and put him on the sofa, and continued to sleep while Greg and Melissa picked him up and took him home. Yeah, I think he had a god time.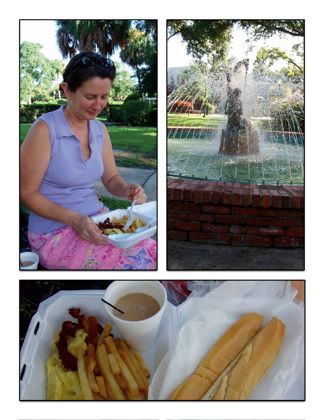 Coffee, InStyle and comfy pillows!