Birkin-Bling
I have a fabulous collection of lovely high heeled shoes, but on a daily basis I wear Birkinstocks. Yes, they are unatractive, but I have ceramic tile kill your feet floors. I love my Birkies so when I saw this pair with rhinestone buckles I knew they were coming home with me. Shnazzy, don't ya think?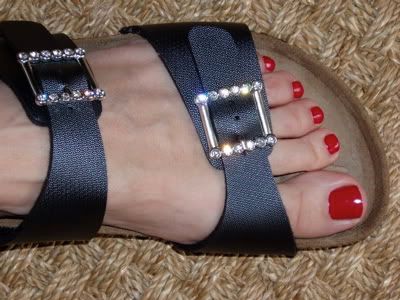 You know what else I like? Flowers. If you want to make me happy just
send roses.
Elton John, who once admitted spending more than £10,000 ($14,493) a month on flowers, has ordered florists to cut off all the leaves and hide the stalks on his floral decorations.
The superstar does not want to see green in the red and white floral arrangements adorning his dressing room and the flowers should be displayed in 8-inch vases. I'm just not that fussy.