Recovering From the Festivities.
Tuesday was Megans 21st birthday and the day was filled with fun. We started out with a special french toast breakfast and beautifully set table that I can't post pictures of because Meg downloaded them to her computer and deleted them. Mid morning Greg showed up with a birthday cake and flowers, boys in tow. They visited for a couple hours, then Darlene came over bearing Thai food for lunch. While she was still here, Sarah arrived, ready for our girls night out. Soon Joan arrived and the four of us, (Joan Meg Sarah and I,) started driving around looking for a place to take Meg out for a drink. We weren't having any luck, so we headed over to Gregs, (our designated driver,) to see if he could find us a place. Quak decided to join us, so we all loaded up in Gregs 15 passenger van and headed over to
The Copper Rocket Pub.
We arrived during a severe thunderstorm and the lights went out twice during the first 30 minutes, adding to the excitement of the night. Much beer was drunk, too much beer was drunk by the birthday girl, and we headed home around midnight.
Wednesday will forever be known as the day of death. I was sick, (and still am today,) from cigarette smoke. Megan was just
sick.
Unable to blog or do much of anything else, we lay on the sofa watching, "The Office." Joan and Sarah, who both had spent the night, were fine.
Today Meg headed over to Tampa to spend the weekend with Keith, and celebrate her birthday with friends there. Two Megan, just two.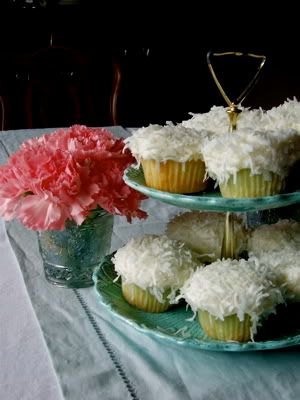 Megs coconut cupcakes.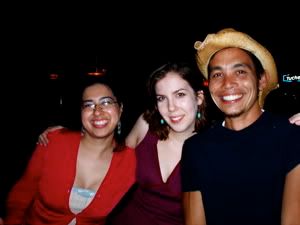 Joan, Meg and Quak