The Weekend.
It was a great Easter weekend, starting with Jessica and Megan arriving from Tampa Friday night, (thanks Keith for being Jeeves.)
Through the magical powers of Little Siagon summer rolls, Jessica was able to eat all weekend with out throwing up. Now that she is back in Tampa, things are not going so well for her. I think she needs to come spend a week with her mommy.
Saturday we met Rebecca and Heather at Starbucks and had a really nice visit. We also had alot of fun people watching. We had another Paris Hilton wannabe sighting, and a guy getting coffee that had a dog the size of a pony.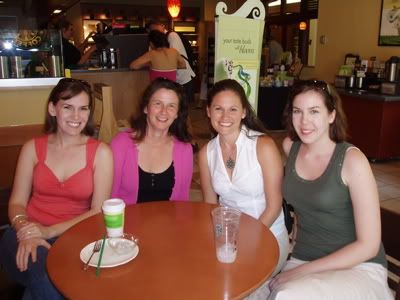 Jessica, Rebecca, Heather and Megan.
Saturday evening Greg, Melissa and the boys came over, anlong with David, Renee and the girls. We grilled steaks ate chips and salsa and drank white trash margaritas, (a recipe Greg gave me.) The little ones had fun running through the sprinkler. It wasn't long before Sam and Gregory had taken off their clothes. Eva who is 3 and has no brothers, had never seen a naked boy before. The look of suprise she had was priceless. She then proceeded to point and laugh at their boy parts. I hope that hasn't scarred them for life..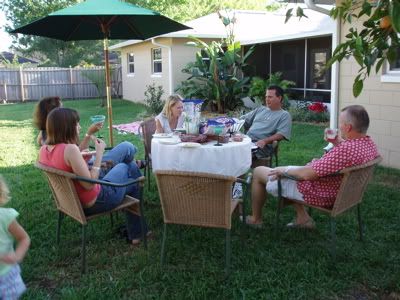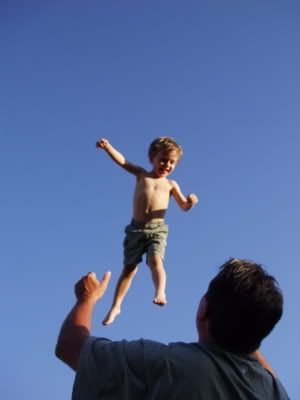 Flying Sam. Yes the sky really was that blue.,
Easter was spent at Mark and Darlenes, along with 50 other people. And of course no holiday gathering is complete unless we bring our water balloon launcher. Here Megan demonstrates how to correctly shoot the balloon.