A Toy for Sam Brewier.
Saturday Brewier and I went out for our usual morning round of garage sales. Baladwin Park was having a neighborhood sale, always fun because there are lots of them all close together. The deal of the day was a new in the box G.I. Joe type toy, with a machine gun that moved and made shooting sounds for $1, even the batteries were included! I thought this would be a great toy for the next time I babysat Sam. My former military husband thought it was pretty cool aand kept looking at the toy and its accessories longingly. After we were home for a while he asked if he could take it out of the box. Then he asked if he could unhook all the guns and suit up Joe. I don't think Sam will be playing with it anytime soon.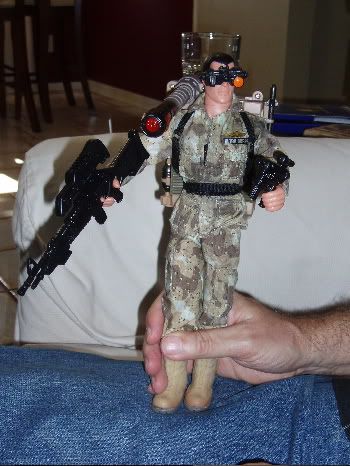 We've been having the most beautiful weather here and I'm spending most of my days sitting outside visiting with friends. Saturday afternoon Sarah and the kids came over and while the adults sipped wine and ate yummy things, the kids ran naked throught he sprinkler for
hours.
It was the most perfect and relaxing afternoon.