Good Things.
Saturday is normally reserved as, "date day," for Brewier and I. Our mornings usually start out with a trip to Chic-filla and Dunkin Donuts, then on to garage sales. Yesterday was a work day at the church for the men, so I went out to garage sales
all by my self.
It would have been a pretty crummy morning had I not found this.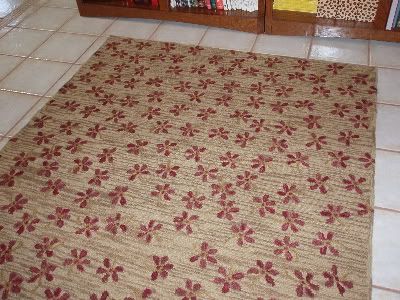 An 8x5 all wool rug from Pottery Barn....for $20! At his same sale I bought a 6x8 new sisal rug for the back patio for $5, and thankfully they both fit into the front seat of my car after I put the top down.
After Brewier came home and showered he suggested we drive over to visit Jessica and Ray, (he's working on being spontaneous.) Rachel was there and I was so glad to get to see her before she has her baby, which will probably happen in a day or two. She and Conrad are going to make great parents.
Tonight Joan, Megan and I are having an Oscar party. I'll have to pull out all my rhinestones and furs so we can dress the part.