Thrift Stores.
Megan found these cards while we were out thrifting the other day. What a deal at 99 cents. Not only can she use them for practicing french, but the cards are also great collage material.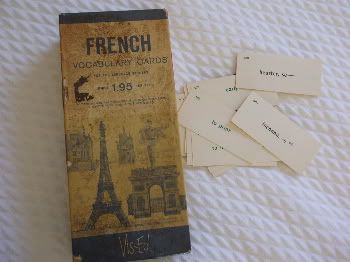 Yesterday, I had my first session with the Dr. who is trying to eliminate some of the fibrosis from my muscles. Ouch! He told me it would hurt, but it
really hurt!
I have big bruises on my back, and am so sore that I didn't get much sleep. I'm realy hoping this is a case of no pain no gain.