Digging Holes.
Brewier and I stopped by to visit Greg and the boys yesterday morning. The boys were anxious to be outside and as soon as Greg let them out, they ran for their shovels and started digging. This activity will keep them busy for hours, according to Greg. Around lunch time Greg fills their hole with water and then the real fun begins.
I remember my mom letting us dig holes in the yard; Kenny and I turned ours into a fort. Roger and Greg dug a hole at Lake Texoma that collapsed onto Roger, burying him alive, (prettty scary.) Then as teenagers in Florida, they decided to dig a hole in the backyard to see if they could hit the aquifer. They did.
Earlier this week while Sarah and 3 year old Ethan were visiting, we sent Ethan into the yard to play. I had to smile when only a few minutes later he was inside asking for a shovel so he could dig a hole.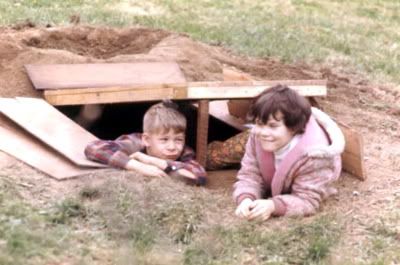 Kenny and I.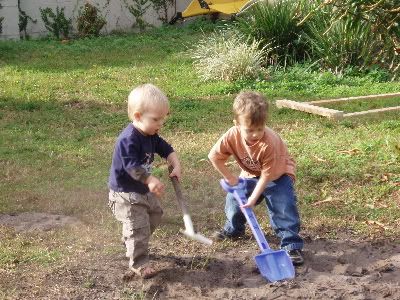 Gregory and Sam.