Chrstmas Festivities.
Saturday afternoon we saw a group of four girls going door to door on our street, singing what I thought must be several songs.When they knocked on our door, Kenny, Megan, Brewier and I all rushed to the front door, (we love stuff like this.)
They proceeded to sing us a five minute long rendition of Frosty the Snowman, skipping only one line, because it didn't print out on their lyric sheet. It was great:)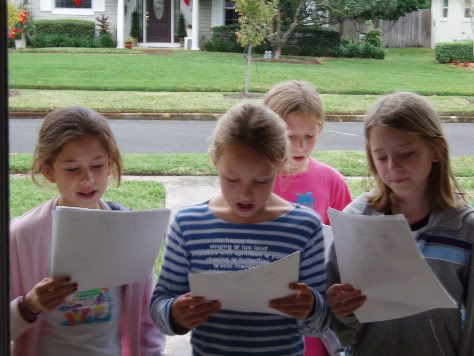 Last night I rode out into the Florida wildrness with Melissa and the kids, to visit Greg who has a family from Michigan with him for one of his
wilderness adventures.
I'm so used to city living, its never dark here, there are so many lights. Well it was
dark
at the cabin, we couldn't see where we were walking; cool but weird. I didn't know there were still places in central FL that are like that.
We only stayed with Greg a short time as the boys were hungry and tired, but couldn't resist stopping on our way home at a little Baptisit church, in the middle of
nowhere
that had transformed itself into a manger scene with live animals and people dressed as shepherds and wise men wandering around. We weren't sure what was going on until we parked and got out ofthe car, but soon found out it was their Christmas program getting ready to start. All the costumed children gathered in the manger and sang JIngle Bells, followed by a large puppet lip syncing to Bing Crosbys version of Jingle Bells. I've got to tell you, I realy wasn't expecting Jingle Bells, Silent Night, yes. Jingle Bells, (twice,) no. Melissa and I just looked at each other with a , "Hmmm," look, and gathered up the tired boys and headed home.