Birthday Bling
Have I mentioned I like sparkley things? A ring from Brewier, a bracelet from Allison and a watch from Trang.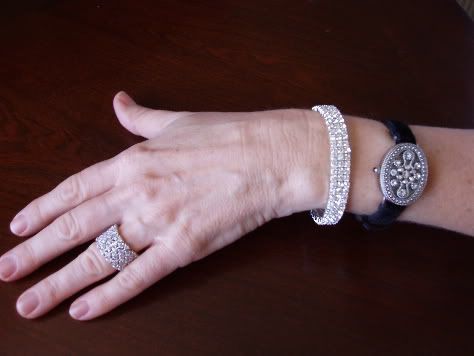 Christmas eve we went to Dori and Tony's for a cuban feast, then went on to Mark and Darlenes to open gifts and ride around looking at Christmas lights. The most creative use of lights: a man who wasn't visible until you were next to his driveway, he then hit a switch and you could see that he had wrapped himself in
hundreds
of lights, as he struck different poses.
Christmas morning was weird. We had no tree, a poinsettia was filling in for it, and it was just Brewier Megan and I opening gifts. Brewier got me Tivo, a cold heat soldering gun and brochures to pick out a new bike. We went over to David and Renees where I was able to get my kid fix, as an excited 2year old Eva showed me all her gifts.
Lunch was spent at Mom and Dicks, with the rest of the family....a noisy fun time. I love getting to spend time with my nephews and niece. Ray and Jessica came over in the evening and we opened gifts with them....I was so anxious to give Jess her gift; the 10 season collection of "Friends." Yeah, she was pretty happy. Over all a really nice Christmas, though its always over too fast. I'm all for the 12 days of Christmas.