Kentucky Bourbon Cake.
I found the recipe in 1983, and took it with me when I went to visit my family who were living in WI at the time. Mom and I thought it would be a fun project to bake this cake so we went over the recipe and gathered the supplies we would need. The instructions called for soaking cherries and rasins over night in a cup of bourbon, so we did that. The next morning we took the cover off that bowl and,
pow
We were hit with the smell of bourbon...it smelled really good. We sampled the cherries and rasins. They tasted good. All I remember about the rest of the cake baking was that we giggled alot, and the cake was delicious.
Yesterday Mom and I shopped for the ingredients for the cake, and got the fruit soaking. This morning she will come over and we will bake the cake together again. Hopefully, much giggling will ensue.
Mom reminiscing about our first baking experience.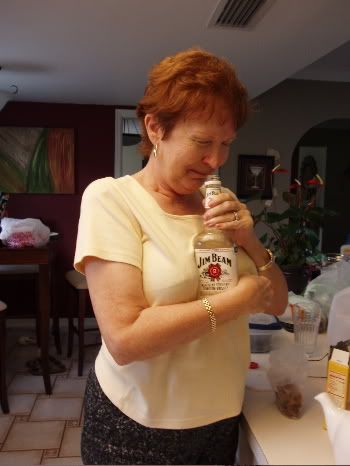 This could be why we giggled so much.