Pretty and Pink.
Because at our house its not just the Easter eggs that get colored.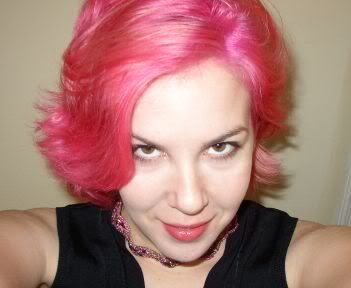 Yes , the real Megan is back.... neon colors suit her personality more than her natural brown. I like this pink even more than the pillar box red she used to wear.
This weekend went by too fast and in a sugar induced blur. I've reached the age where I can't eat chocolate bunnies first thing in the morning without feeling yucky but hey, since the yuckiness was there, why not continue the candy spree with peanut butter eggs, peppermint patties and jelly bellies. We went Mark and Darlenes for a late lunch of ham, lamb and grape leaves. Yes Jessica, I'm eating one now. Yummmm!