Nothing Says Love Like A Hickey.
Have I mentioned how much Gregory likes sucking on my arm? This is a 15 second hickey. You should have seen Megans 5 minute hickey! It was purple and took days too go away.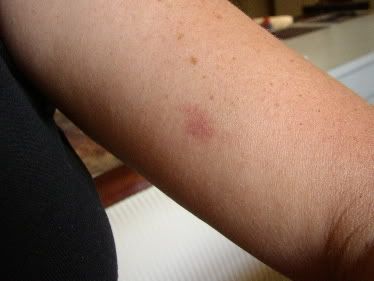 I love Pottery Barn. I can not afford Pottery Barn. I can however afford Pottery Barn knockoffs like this ottoman. $213 including shipping, at Overstock. Yes it is leather. I bought my new slipcover on ebay. It is Pottery Barn and was new in the package. $19.49 including shipping on ebay. $249 at P.B. I love finding a deal!