Have I Mentioned I Like Coffee?
So today my latest ebay aquisition arrived. The much sought after Mellita/Gevalia 4 cup coffee maker. This is the holy grail of coffee pots. They were a freebee offered by Gevalia years ago, and make the very best coffee. I got my first one about 15 years ago, from Gevalia. I took advantage of their offer several times, until they changed the coffee pot they offered....about 6 or 7 years ago. Since then I've been able to snag them at yard sales, but they are
extremely
rare now. I check ebay often and when I see one offered I try to get it. So do alot of other people. So for $18 plus $8 shipping I now own another perfect coffee maker.....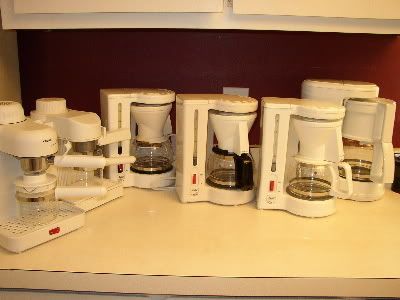 along with 2 espresso makers and a 12 cup coffee maker. Yes, they are all invaluable to me.