Thats About It.
Yesterday, after 4 hours sleep, Sam arrived at my front door at 6am. The first thing we did was make coffee. Sam knows how. He went to my freezer and pointed to the bag of coffee, then I set him on the counter, where he threw beans into the grinder, munching the beans that landed on the counter. The day flew by and Melissa was here at 4pm to pick him up. I forgot how much energy a 2 year old has...I did nothing other than play with Sam all day, but we had alot of fun.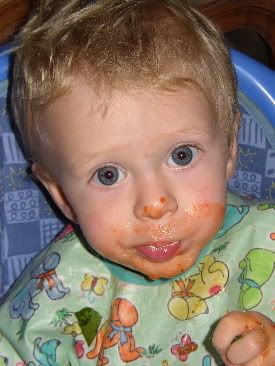 Today Megan and I went to Costco and tested the recliners. Well actually we went for half and half but after walking around for a while we were tired. The two recliners were on the bottom "shelf" so it was very cozy and quiet sitting in them. We had a couple approach us saying they would have never been able to find the recliners had they not seen our feet poking out from the merchandise. "See," I told Megan, "We are providing a service for Costco by sitting in their chairs."
Megan is at Bible study right now, so I am eatting a peanut butter sandwich for dinner while watching the food network. I'd much rather be eating the food on tv. I'm still waiting for a device like on Star Trek that dispenses any food you ask for. Just think if the Food Network came up with that. As you watch the show you can have what ever is being cooked transported instantly to you. The Food network could rule the world.